Tree Pro
Regular price
Sale price
$6.50
Unit price
per
Sale
Sold out
Tree Grow Tubes are sold in bundles of 5. Discounts automatically calculated in Cart. All 48", 60", and 72" orders include mesh bird nets.
TREE PRO TREE PROTECTORS

Tree Pro Tree Protectors are our first protector we began manufacturing 35+ years ago. They are a Flat Sheet (Slit Tube Design) that is formed into a Tree Grow Tube with the releasable zip ties we provide. If you are looking for a tree grow tube that allows for post planting maintenance, this is the easiest one in the industry. It's the tried-and-true classic that still gets the job done. Get the peace of mind that comes with proven protection for your prized trees.
Our Grow Tubes are designed for a stake of the SAME SIZE (ex. 48" Grow Tube uses a 48" Stake)
Installation of Tree Pro Protector
Share
View full details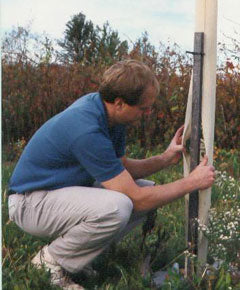 Tree Pro Tree Protector Features and Specs
Features

-100% Recycled Polyethylene (milk jug plastic) Slit Tube
-UV Stabilized for 5 to 7 years
-Rigid, Single-wall design with a seam down one side
-Tab Flared Top to protect seedling from sharp edges
-Tube diameter of 4.15" (allows connecting multiple protectors for larger diameter)
-Permanent Venting- Vents start half way up to allow herbicide spray around the base
-Releasble UV Treated Zip Ties included
-Mesh Bird Net at no additional cost upon request for 48" and taller
Specs

-Made of HDPE (#2 plastic)
-3/8" Vent and tie placement holes
-UV Stabilized for 5-7 years
-includes releasable zip ties
Details

EASIER TREE SHELTER MAINTENANCE
When choosing a protector ask yourself if you will be doing post planting maintenance. If you are Tree Pro has no equal. Because they can be opened up, it's easier to perform maintenance on the tree without removing the protector or disturbing/damaging the plant.

Tree Pro is the most versatile design in the industry. Tree Pro is a flat sheet that forms into a tube. This design allows multiple Tree Pros to be attached using our Zip Ties to expand to achieve larger diameters, there is almost no limit to the size of tree or plant it can protect.

Tree Pro Tree Protectors have, in fact, been used to protect evergreens, grape vines, strawberry, blueberry plants, and even tomato plants

After planting the tree in accordance with proper tree planting directions, pound or press the stake into the ground at a distance from the tree equal to about one-half the diameter of the protector.

RE-USABILITY
Because Tree Pro Shelters can be easily removed, they can be reused elsewhere once they've done their job, a significant cost advantage over tubes.
Installation

There is a video on our installation videos tab and further up the page that lays it all out. It's better than anything we could write to explain the installation process of our tree grow tubes.