Tree Pro
TREE ORDERS WILL BE SHIPPED IN SPRING 2024
Regular price
Sale price
$30.00
Unit price
per
Sale
Sold out
****TREE ORDERS WILL BE SHIPPED IN SPRING 2024****
The hybrid Chestnut has become known as the #1 food for big bucks. Hybrid Chestnuts, provide the nutrients the deer need to become trophies. The Chestnut Trees produce a sweet nut the deer can not pass up. You can bet the deer herd will be back time and time again where ever you plant a Hybrid Chestnut Tree. Tree Pro has a collection of hybrid chestnuts that drop throughout the hunting season. This allows you to decide WHEN AND WHERE the wildlife eat.
Each Tree includes 60" Tree Protector, Weedmat, Controlled release fertilizer and pre dipped in Mycorrhizal Root Dip.
 Our Trees are bare root and shipped in Spring. 
Trees are 18-36" tall. 
Share
View full details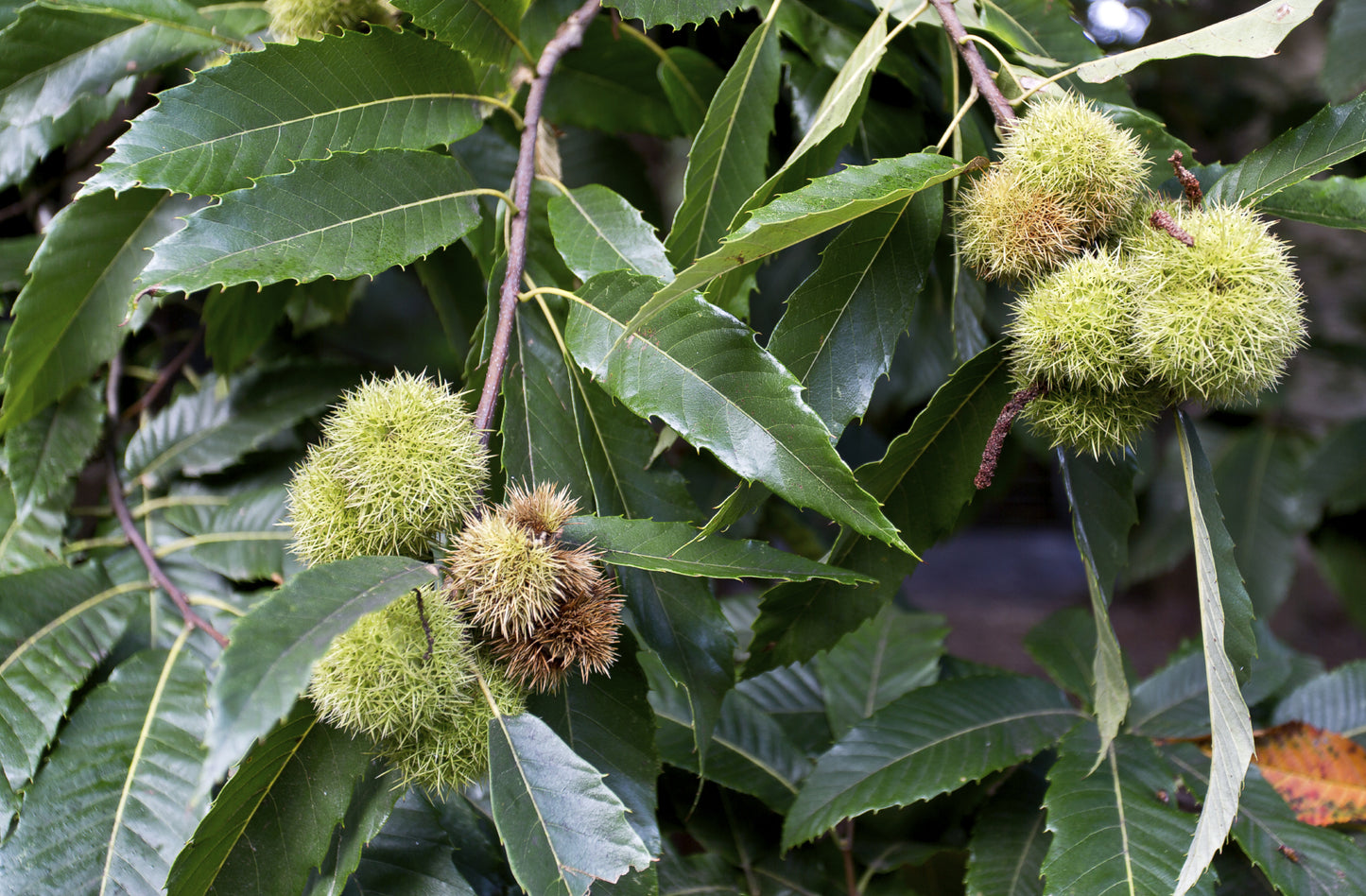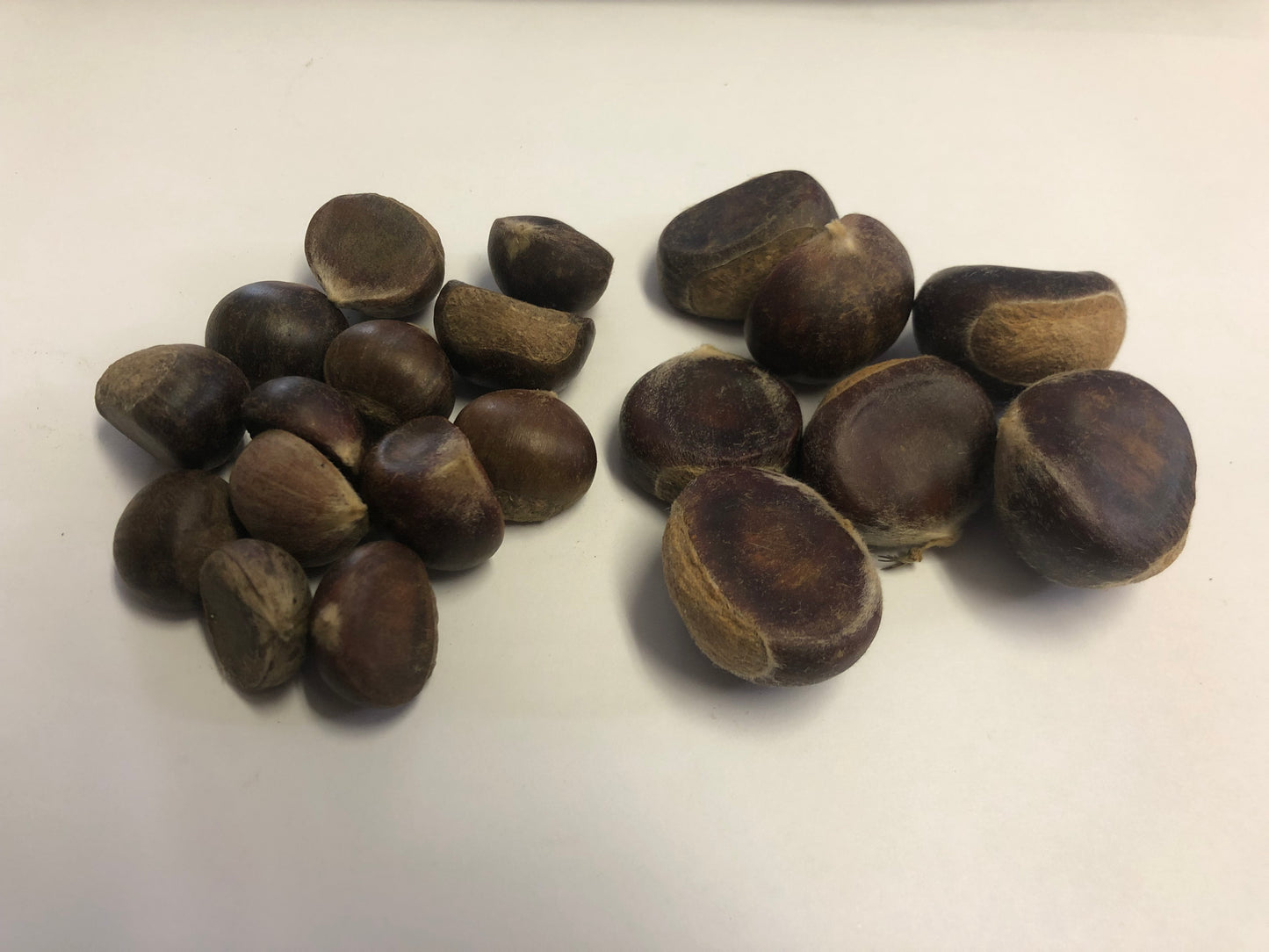 American-Chinese Hybrid Chestnut Features and Specs
Features

MONTHLY DROP TIMES
-Our American Hybrid Chestnut that drop in August, September, October, November. Each month is a different tree. USDA Zones 4-9

TIMBER CHESTNUT
-Grows like a tall hardwood, fantastic as a timber investment in the future. Drops in September. USDA Zones 4-9

GOBBLER CHESTNUT
-Small nut for turkey, starts to drop in late September carries over into October. USDA Zones 4-9
Specs

Zone: 4-8
Variety: Castanea dentata X mollissima (also known as dunstan)
Specialization: Possible Timber Value
Growth Rate: Fast
Crop Abundance: Heavy
Can Produce In: 5-6 Years-Needs another Chestnut for cross pollination.
Soil Type: Sandy-Sandy Loam-Loam-Sandy Clay. Avoid heavy clay.
Soil Moisture: Well drained to Dry.
Height at Maturity: 40′-60′
Details

DROP TIMES THROUGH THE HUNTING SEASON
We have hybrid chestnut trees that genetically drop every month from August to November. These trees were developed by crossing American with Chinese, similar to the way Dunstan Chestnut trees were developed. The chestnuts are a sweet bite size nut the deer can't resist. They should start producing nuts in 3-5 years.

GOBBLER CHESTNUT
The Gobbler Chestnut was developed similiar to the Dunstan as well, but with a dime to nickle size nut that is perfect for the turkey as well as deer. The turkey will come from miles away to get a taste of the seed. These will begin to drop their seed in September into October. Perfect for the fall archery season is most states.
Installation

Check out our tree planting video in the Install Video Tabs.