Tree Pro
Regular price
Sale price
$6.50
Unit price
per
Sale
Sold out
Tree Grow Tubes are sold in bundles of 5. Discounts automatically calculated in Cart. All 48", 60", and 72" orders include mesh bird nets.
MIRACLE TUBE TREE SHELTERS
Miracle Tube tree tubes were introduced in 1999 to compete with the tube-type tree shelter. However, Tree Pro designers took great pains to make sure the problems associated with tree tubes were avoided. Miracle Tubes are made from 100% Recycled HDPE with our proprietary UV-Color mix to make sure it lasts in all sun conditions. You will see increased growth as well as 90-100% survival rates with Tree pro Miracle Tube Tree Grow Tubes. 
Our Grow Tubes are designed for a stake of the SAME SIZE (ex. 48" Grow Tube uses a 48" Stake)
Provided in a nest of five tubes ranging in diameter from 3.5" to 4.75"
Share
View full details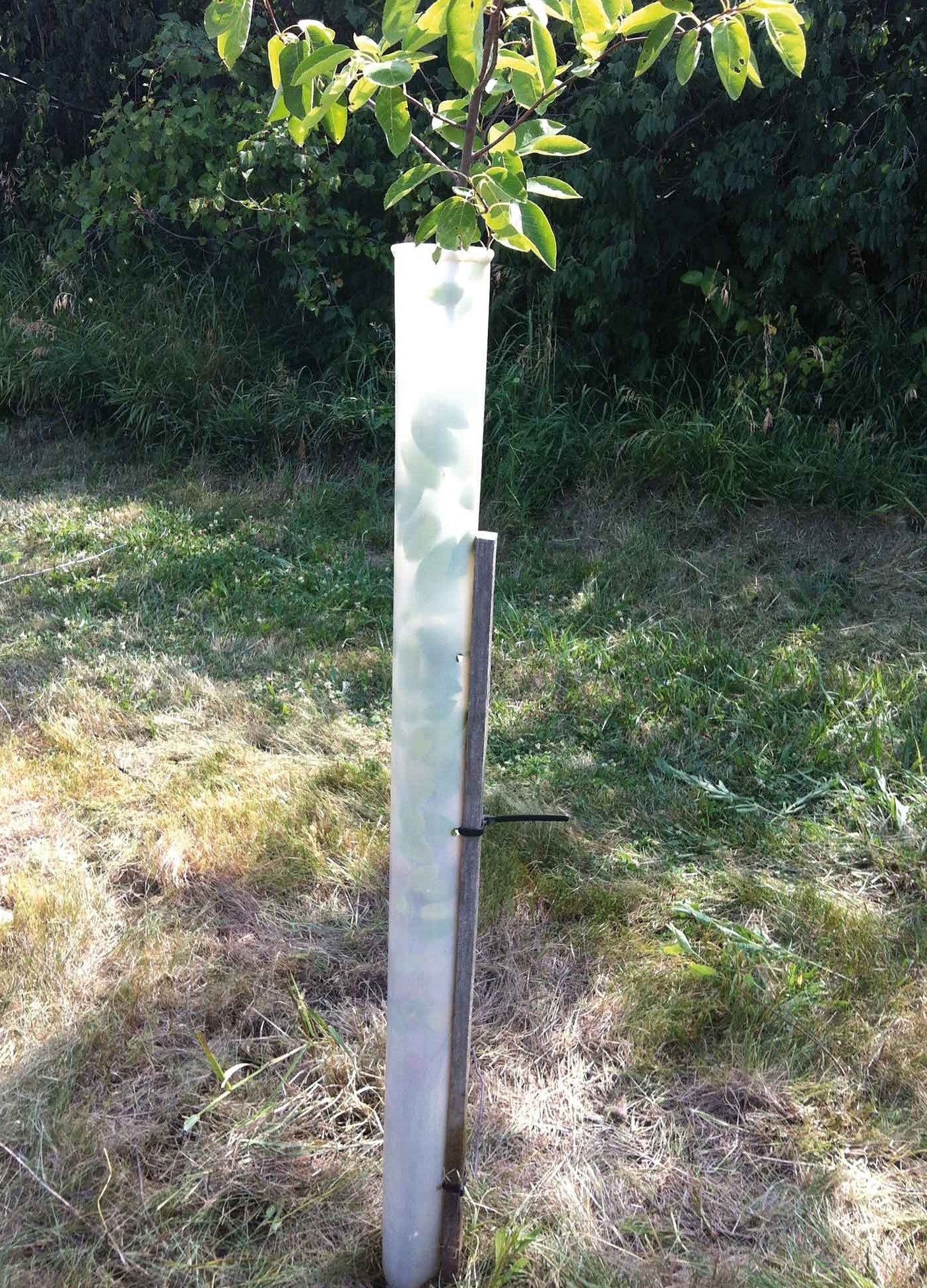 Miracle Tube Tree Grow Tube Features and Specs
Features

-100% Recycled Polyethylene (milk jug plastic) Seamless Tube
-UV Stabilized for 5 to 7 years
-Rigid, Single-wall design with a razor line perforation
-Cuffed top & bottom protects tree as it grows out of tube and provides stability
-Five Tube Diameter- Range from 3.5"-4.75"
-Permanent Venting- Vents start half way up to allow herbicide spray around the base
-Two Releasble UV Treated Zip Ties pre-inserted
-Mesh Bird Net at no additional cost upon request for sizes of 48" and taller
Specs

-High Density Polyethylene
-Rolled Top and bottom to protect the tree.
-Two 8" zip ties
- .028" Wall thickness
-Venting in top half
Details

Best Seedling Tube in terms of growth and Survival
Miracle Tubes performance in the field exceeded the wildest expectations of the designers is attested to by top performance in independent growth and survival tests against other tube-type shelters.

Heat problem solved with Vented Tree Growing Tubes
Tree Pro designers knew from prior experience with the Tree Pro tree protector design that excessive heat retention was the cause of most of the problems of other shelters.

They therefore formulated a polyethylene material that had just the right color and density to promote good tree health.
Installation

Easiest Tree Grow Tube Installation
After planting the tree in accordance with proper tree planting directions, pound or press the stake into the ground at a distance from the tree equal to about one-half the diameter of the protector. Then slide the zip ties over the stakes, while push the tube to the ground. Finally, pull the zip ties tight and your tree is protected.